A few weeks ago we went with a group of six friends on a beta-test of our SECRET KYOTO cycle tour. On that day we visited Kinakuji, Ryoanji, Toji and Myoshinji temples.  This was a great experience and the beta-test was a success. First thing we learned is that you MUST get to Kinkakuji as early as possible. As we live in Kyoto we often go to the major UNESCO World Cultural Heritage sites on the off day and the off hour. By noon, forget it.
There are so many people that it's like being on a morning commuter train in Tokyo.
The second big realization is that the TERN folding bikes are amazing. We had two radically different sized riders on the same exact bike (one was 190cm and 90kg and the other was 155cm and 41kg) and they were both comfortable and able to easily ride. The bike are so adjustable.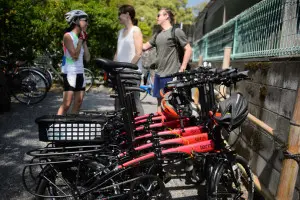 The other major thing that we decided during this tour was that one probably only needs to see one of the UNESCO World Cultural Heritage sites per tour. The rest of the time was better spent in quieter, unknown and intimate environments.  Why? The consensus was that you could probably see the major sites on your own. There is so much information about them that having someone walk you through in a crowd didn't add a lot of value to the experience. What was fun was sitting around on the porch of a smaller temple and looking out over the gardens or cycling by an old row of traditional houses and shops. We found places that even the long term residents of Kyoto (Japanese and non-Japanese) had never really seen!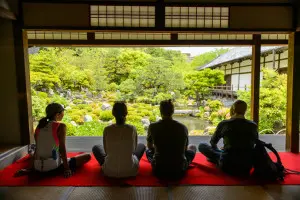 NORU offers both city and countryside bicycle tours. Our Kyoto city tours are designed to explore both the cities most famous destinations as well as a few secret and hidden gems. We also offer a variety of adventure tours for those who really want to get out of town and have some fun.
Our tour leaders have carefully curated a selection of tours that focus on showing you the beautiful contours of this ancient capital.  More than just visiting the busy tourist sites, our journeys are crafted on leisure, scenery, and culture, while uncovering some of the best-kept secrets in Kyoto.